1/7
51mm Bottomless Coffee Machine Portafilter Filter Basket For Delonghi Ec680/685
Quick Details
Payment:
PayPal,VISA,T/T,D/P,D/A
Supply Ability:
10000 piece per month
Quick Details
Product name

51mm Coffee Bottomless Portafilter

Usage

Coffee Machine

Surface finished

Highly Polished

Material

Stainless Steel+Wood/ABS

Style

Bottomless

Weight

360g-390g

Package Size

25*8.5*4.5cm
Delonghi Ec680/Ec685 Bottomless filter,Delonghi Dedica Portafilter
| Product name | Delonghi Ec680/Ec685,Delonghi Dedica 51mm bottomless filter |
| --- | --- |
| Material | Food grade 304 stainless steel |
| Usage | Brew coffee |
| Feature | Refillable and reusable |
| Accessory | 1 capsule + 1 brush + 1 spoon + 1 pound stick |
| Suitable for | Delonghi EC680 / Delonghi EC685 / Delonghi Delonghi |
| Weight | 310g |
| Package | 35个/pk |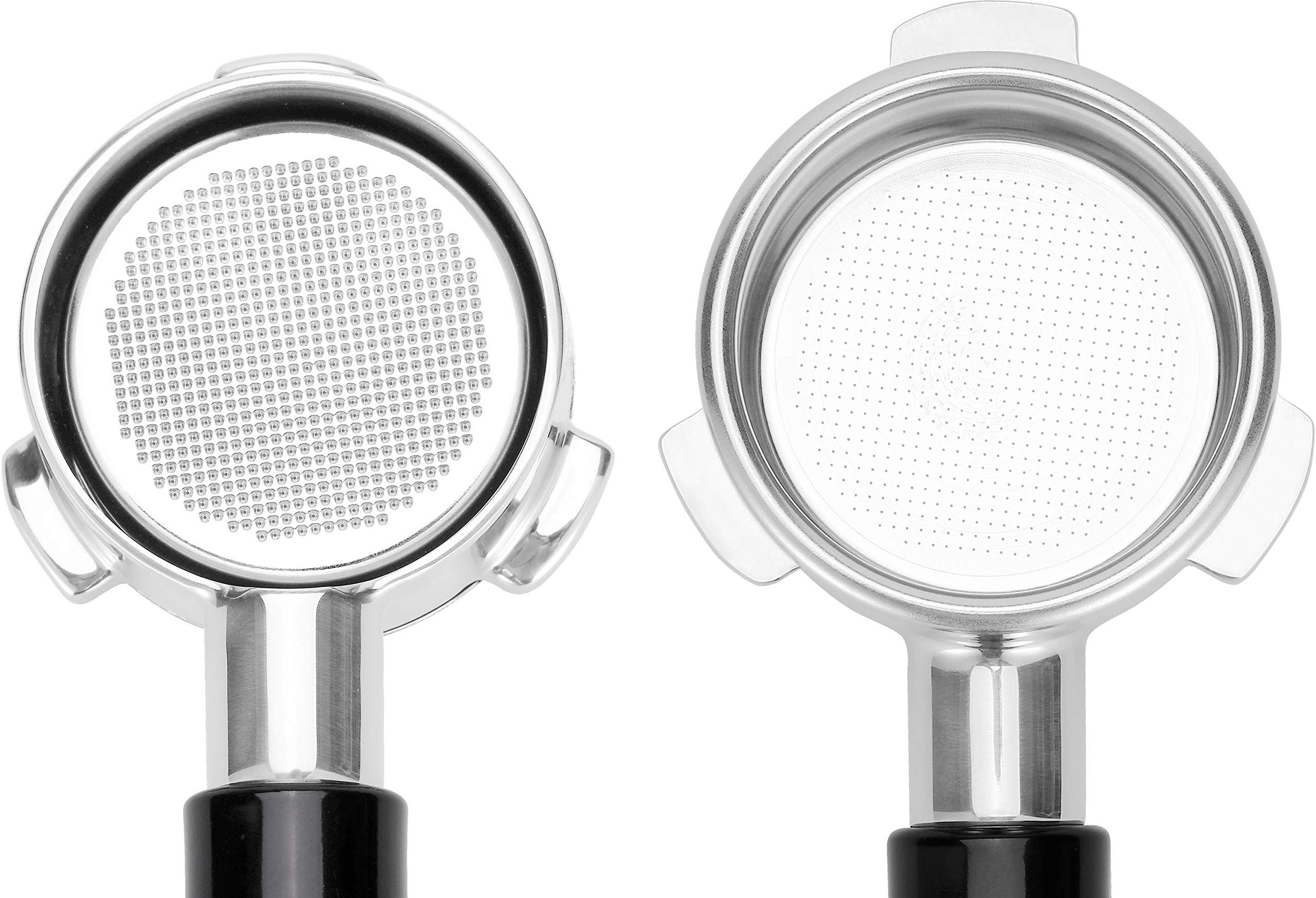 Bottomless Portafilter For Delonghi Ec680/Ec685,Delonghi Dedica Portafilter Features
1. This bottomless Portafilter basket is made of food grade stainless steel.
2. The ergonomically designed solid wood handle has a comfortable grip and stable operation.
3. The coffee liquid extracted from the bottomless handle has more fat and better quality, allowing you to enjoy the shiny golden brown coffee column soaked in espresso in the United States.
Characteristic
Single layer sieving with ultra-fine mesh is the key to extract fat from coffee
Easy to clean
Easy to disassemble, easy to use, easy to clean
Modern CNC technology
CNC integrated molding technology high-end precision manufacturing
📣Why choose us?
Factory direct sales

Quantity guarantee

Custom processing

Fast delivery
| | |
| --- | --- |
| Terms of delivery | |
| Payment currency | |
| Terms of payment | wire transfer, letter of credit, Paypal |
| Nearest port | Shenzhen, Guangzhou |
Packing and shipping
Packing
Carton

PVC tray

PP bag

according to your needs
Package detail
Sales unit: single product
Single product packaging size: 25X9X5 cm
Gross weight of single product: 0.400 kg
| | | | |
| --- | --- | --- | --- |
| Quantity | 1 - 10 | 11 - 100 | >100 |
| US Eastern Time | 7 | 15 | need to negotiate |
Shipping
UPS

FedEx

Express

DHL

EMS
Custom
If you are not satisfied with the standard packaging, we offer to design your own packaging according to your needs.
Bottomless Portafilter For Delonghi Ec680/Ec685,Delonghi Dedica Portafilter
If you are confused about the existence of bottomless filters, don't worry, you are not alone. The enthusiasm of world-class baristas inspired this new feature in the espresso world. Their lives are only to extract the absolute best from each coffee bean. Delonghi dedica ec685 portafilter can facilitate your life.
Bottomless Portafilters V.S. Spouted Portafilters
By cutting the bottom from the filter, you can get in touch with the good, bad and ugly espresso. The traditional spout filter can very well gather the coffee into a clean and neat extracted coffee flow into your cup. Any defects in the grinding, metering and compaction technology can be easily concealed by the use of nozzle filters.
The bottomless portafilter delonghi ec685 will tell you everything. It does so in a ruthless manner.
Coffee that is under-used, over-used, unevenly distributed, or heavily compacted can cause espresso to spill everywhere. This is called a channel. Water finds weak spots in the ice ball, it can pass through easier and faster, so it will not disturb the correct extraction through coffee powder.
Homogeneous extraction
In places with fast water flow, coffee will be sprayed from the bottom of the hand-held filter at an unpredictable rate. This is frustrating and may be a bit embarrassing, but my goodness, it will make you work harder to perfect your technique.
Guidance and how to perfect your compaction skills
If you are bothered by brewing, try to distribute the coffee more evenly by moving the filter around during the dosing process. Let the coffee fall evenly on the perforated surface of the basket to help prevent weak spots on the edges. In addition, make sure that your compaction is always uniform.
If you do it right, the lens will pour out like warm honey. Smooth, silky and delicious. Yes, the coffee tastes better. It makes all the pain and pain worthwhile. When practicing with the delonghi dedica bottomless portafilter, make sure not to wear your favorite white shirt!
Benefits of bottomless coffee portafilter filters
One of the best reasons to buy this type of filter or convert your existing filter is that it can obtain a higher quality espresso. Because there is no nozzle for the espresso to pass through, the coffee fat will be more developed, because it breaks down less in the nozzle, which will give the coffee a better flavor. If you have a crush on bottomless portafilter for delonghi dedica.
Another reason to go to the bottomless pit is convenience. It is much easier to clean a bottomless mobile filter than a filter with a nozzle, because you don't need any small brushes to clean the inside of the nozzle deeply.
The absence of a spout also creates more headroom between the coffee pot and the drip tray on the machine, which means that taller glasses can be placed underneath, which means that small wine glasses may be a thing of the past.
The portafilter delonghi dedica will not only produce a better espresso, but it will also make life better.
Company Profile
Dongguan Envery Hardware Plastic Electronic Technology Co., Ltd. is a leading company that designs and sells coffee pods, coffee sticks, and coffee capsules in the coffee tool industry. With the business tenet of "survive by product quality, develop by reputation and serve". We are committed to providing you with quality products and quality services.

We specialize in coffee tools, such as coffee capsules, coffee handles, coffee tampers, coffee dispensers, etc. We can also help our customers design their own products and build their brands, which are welcomed by most customers all over the world. Thanks also to the trust of our customers, our business is growing rapidly every year. Welcome to you to break the boundaries of communication.
We design and sell 51Mm Bottomless Coffee Machine Portafilter Filter Basket For Delonghi Ec680/685 and other products, which are welcomed by most customers. At the same time, we can also help our customers design their own products and establish their own brands. We believe We can grow together in the coffee industry. Looking forward to your visit.

Q1: What is your MOQ?




A1: No MOQ Limit。
Q2:What is your quality control?




A2:Production operators self-inspect each process, QC random inspection and final inspection, and the defective rate is controlled within 1% or even lower.
Q3: Can I print my own brand logo on your products?




A3: OEM orders are very welcome. When you ask us, please write down your logo and the detailed information about the location of the logo.
Q4: Are you a manufacturer or a trader?




A4: We are a factory with 10 years of experience, and we try our best to provide competitive prices and professional services.